The Three Stooges. Surely one of comedy's guilty pleasures. Almost no one will admit they enjoy the nyuck-nyuck-nyucks and "soitenly!s" and the rest. Unless you're Mel Gibson. So like we said, almost no one …
First of all, who were they? Everybody knows Moe and Larry and Curly — but that's only half of the story.
They started in vaudeville, a now-deceased form of show business that was basically a traveling variety show. Different acts — singers, trained animals, comedians, and every other act imaginable — performed on stage during the course of an evening's entertainment, then moved on to the next booking. Moe Howard was a "stooge," or supporting player/straight man to star Ted Healy. Shemp Howard — Moe's brother — joined the act, as later did Larry Fine, himself a violinist and would-be boxer. (You can't help but wonder if "taking a punch" was in the "personal strengths" column of his application.) By all reports, nobody much liked Healy.
THREE OF THE SIX STOOGES: BROTHERS MOE AND SHEMP HOWARD, WITH LARRY FINE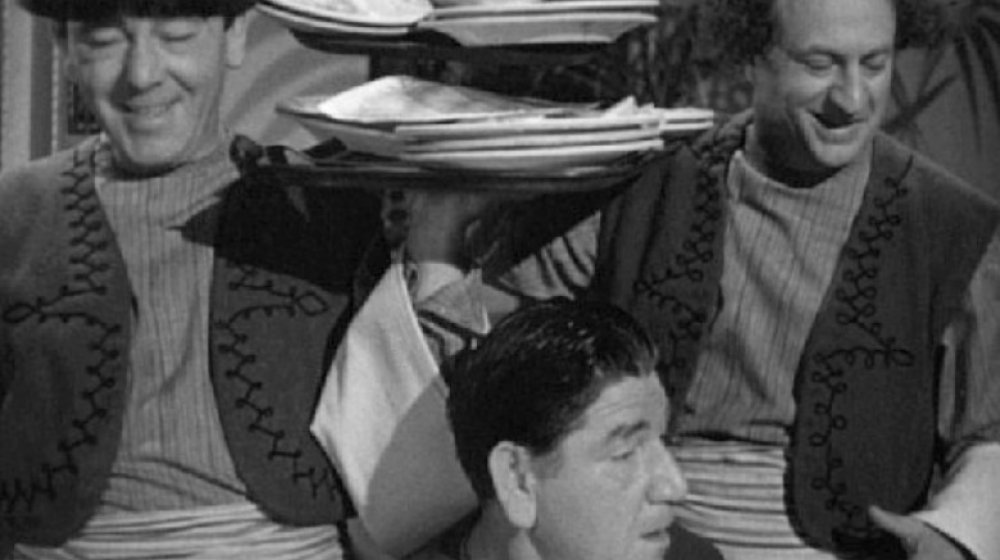 Shemp left the act to forge his own acting career, replaced by another Howard brother, Jerome — known for his shaved head, going by the name Curly and, arguably, everybody's favorite.
Maybe they just realized they were gettin' nowhere fast. The three men finally left Healy's employ and signed a contract with Columbia Pictures. From 1934-1946 they produced and starred in nearly 200 short comedy films, characterized by verbal and physical abuse (for comic effect, of course), slapstick, and farce.
Curly, the baby of the family (and referred to by family members as "Babe"), suffered a vicious stroke in 1946 and, with the exception of a couple of brief film appearances, for all intents and purposes was out of the act. Shemp rejoined the group until 1955, when he died of a heart attack. Joe Palma took Shemp's place briefly so the group could finish its contract with Columbia. Joe Besser worked with Moe and Larry as the third Stooge for two years, replaced by Joe DeRita, "Curly Joe," for a series of theatrical films beginning in 1958.
Like many early film acts, the Stooge short films were cut (often badly) for use on television and sold off by the studio in the late 1950s. Unlike many acts, however, the Stooges received residual payments for their work. Not exactly knuckleheads, no matter what Moe might have told you. With their exposure via the new medium, the Stooges found themselves riding a new wave of popularity. In 1970 they were filming a new television pilot when Larry Fine was felled by a stroke, the first of several.
Fine died in January 1975; Moe followed in May of that year, after suffering from lung cancer. Besser died in 1988, DeRita in 1993, and Palma in 1994 — the last of the Six Stooges.