Uncategorized
Everything You Need to Know About Bill & Ted Before Watching Face the Music
The world of Bill S. Preston and Ted Logan is a better one than ours. The nonfictional year 2020 has offered more than enough evidence that too many people failed their history exams, and the lack of phone booths to carry would-be saviors to fix our mistakes is a subsequent problem. But at least on August 28 we will have Bill and Ted Face the Music, the third film in the time-traveling, head-banging film series. It's been 29 years since Bill and Ted's Bogus Journey, so the original film's creators and stars, including Keanu Reeves and Alex Winter, face a job arguably more difficult than uniting the world in peace and harmony with a few guitars: living up to the expectations of everyone (this writer included) who grew up watching the first two movies on an endless rotation of cable TV and rented VHS.
If it's been a while since you've seen Bill and Ted's Excellent Adventure or Bogus Journey, this is a cheat sheet to help you catch up on the characters, musical cameos, best historical figures, and most outrageous moments, some of which bleed into Face the Music. Don't worry, only minor spoilers (the cameos you might miss and the historical figures who are mostly real) for that movie ahead: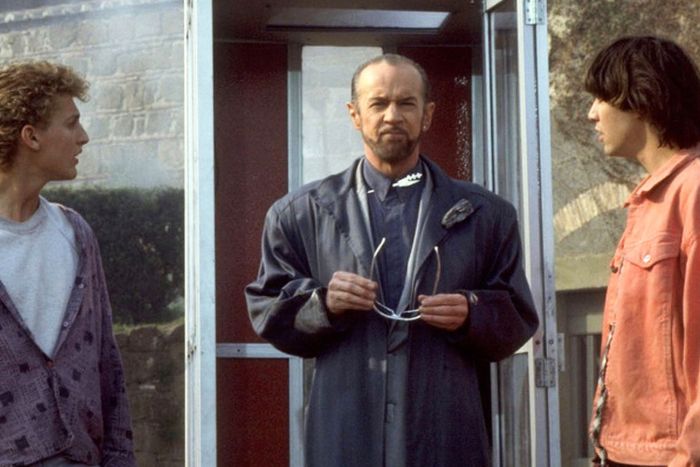 The Plot
Bill and Ted (Winter and Reeves) are two good-hearted '80s metalheads who get a visit from the future [in the form of George Carlin] and learn they are destined to save all of humanity from pain and strife with a song — as long as they can pass their history class and keep Ted from being shipped off to military school in Alaska. Armed with a phone booth, a phone book, and zero actual musical skills (yet), they have a limited amount of time to assemble the greatest experiential history presentation ever.
The Major Characters
Bill S. Preston, Esq. and Ted "Theodore" Logan are in a tough spot. Ted's father, Captain Jonathan Logan, wants to send him to military school, and Ted's younger brother Deacon is an absolute twerp. Bill has to deal with his former babysitter becoming his stepmother, and while they are the heart of their band Wyld Stallyns, they can't actually play their instruments. Enter Rufus (George Carlin), a representative from the idyllic future, who sends them to meet, among others, Napoleon, Abraham Lincoln, Billy the Kid, Socrates, Genghis Khan, Sigmund Freud, and Ludwig van Beethoven — and some historic babes from the 14th century, princesses Elizabeth and Joanna.
The Key Cameos
• Jane Wiedlin: The Go-Go's bassist and songwriter plays Joan of Arc, but her role is silent, so viewers missed out on hearing her famously high-pitched voice. Yes, her lips are sealed.
• Clarence Clemons, Martha Davis, and Fee Waybill: While they might be remembered simply as the futuristic characters on big chairs, this trio's official name is the Three Most Important People in the World. Clemons spent decades as the saxophone player in the E Street Band, but the Big Man also appeared in numerous films and TV shows, including Martin Scorsese's New York, New York, The Simpsons, The Wire, and The Weird Al Show. He also played the sax solo in Lady Gaga's hit "The Edge of Glory." Davis and Waybill are less popularly well-known, but they were both respected musicians and songwriters. Davis was the lead singer for the band the Motels, and she released an album, The Last Few Beautiful Days, in 2018. Waybill was the lead singer and songwriter for the Tubes, with whom he appeared in both Xanadu and the '80s cult-classic Ladies and Gentlemen, the Fabulous Stains. He is also a music producer who has worked with both Bryan Adams and Richard Marx, which means he may indeed be one of the most important people in the world.
• Guitarist Stevie Salas played the hand double for Rufus.
The Most Outrageous Moment
There are almost too many to pick just one, but I will always be partial to every scene anchored around Napoleon (Terry Camilleri). He discovers the joys of waterparks, terrorizes small children, and eats an ungodly amount of ice cream. "ZIGGY PIGGY. ZIGGY PIGGY. ZIGGY PIGGY."
How It Ends
Bill and Ted pass their exams, expose some of the most important people in civilization to aerobics and the lyrics of Kansas, and reunite with the princesses.
Movie: Bill and Ted's Bogus Journey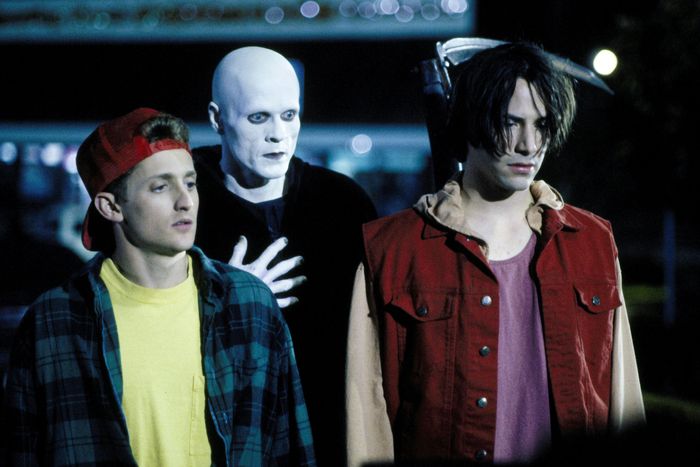 The Plot
Turns out Bill and Ted have not saved the world yet, and they have not kept up with princesses Elizabeth and Joanna in terms of learning to play their instruments. Now, Chuck De Nomolos, a terrorist from the future, is sending evil robot versions of Bill and Ted back to the early '90s to stop Wyld Stallyns from winning the San Dimas Battle of the Bands. After the robots kill them and assume their identities, Bill and Ted have to escape the afterlife and win the contest, with the help of some very strange-looking aliens.
The Major Characters
Bill, Ted, Death (William Sadler), Evil Bill and Evil Ted. Carlin is back and Pam Grier plays Ms. Wardroe, the Battle of the Bands organizer who, spoiler, is actually Rufus. And who can forget Joss Ackland as the terrorist, Chuck?
The Key Cameos
• Primus: Before they wrote the theme song to South Park, Primus showed up here as a rival at the Battle of the Bands.
• Brad Delson: The Linkin Park guitarist appears as an extra.
• Frank Welker: The Garfield voice actor voiced Satan.
Most Outrageous Moment
It turns out Death absolutely LOVES party games, and, as the dudes learn as they're trying to win their freedom from hell, he's a sore loser.
How It Ends
Wyld Stallyns win! But not before they marry the princesses, go on a honeymoon, actually learn how to play their instruments, and return from the future just in time to triumph.
Movie: Bill and Ted Face the Music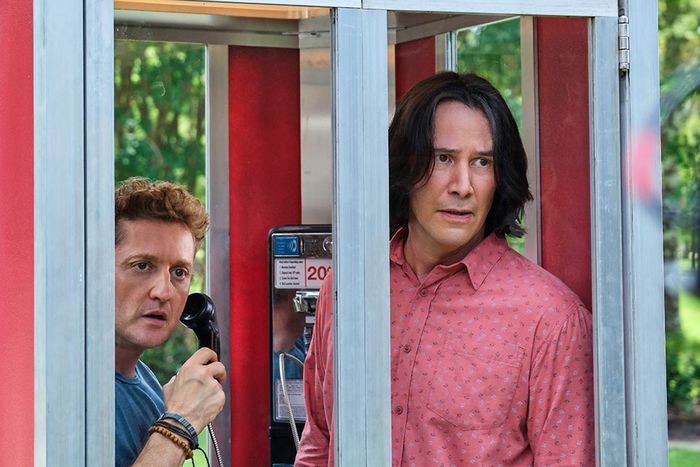 The Plot
Bill and Ted have married their princesses and had daughters, named Thea and Billie (Brigette Lundy-Paine and Samara Weaving). Despite some early success in the '90s, they have not written or performed the song that is supposed to unite the world. Can they break out of the rut of middle-age disappointment and VH1: Behind the Music clichés in time to stop the end of all reality?
The Major Characters
In addition to Bill, Ted, their kids and their princesses (played by Jayma Mays and Erinn Hayes this time around), there is Kelly (Kristen Schaal), Rufus's daughter and new guide to their mission. They also have to deal with the disapproval and efforts of the Great Leader (Holland Taylor), who is also Kelly's mom. The movie wouldn't be complete without Death, but there's also Anthony Carrigan's cyborg Dennis Caleb McCoy, Jillian Bell as a couples therapist, and a slew of historical figures — Jimi Hendrix (DazMann Still), Louis Armstrong (Jeremiah Craft), Mozart (Daniel Dorr), the legendary Chinese musician Ling Lun (Sharon Gee), and a cavewoman drummer named Grom (Patty Anne Miller). Bonus: Hal Landon Jr. and Amy Elizabeth Stoch are back as the Captain and (former) stepmom.
The Key Cameos
• Dave Grohl and Kid Cudi show up as themselves.
• Arcade Fire's Winn Butler is a member of the Future Council.
• Oh, and George Carlin appears in hologram.
The Most Outrageous Moment
Kid Cudi explains quantum mechanics and the multiverse. It's 2020! Of course there's a multiverse.
How It Ends
It's a race against time to unite the world, but this isn't Children of Men.