A comedy group like 'The Three Stooges' might seem like mindless entertainment to some (i.e. women), but their reach and influence can be seen in just about every form of comedy from the small stage to the big screen.
Their iconic pokes, jabs and slaps turned good ol' fashioned vaudeville slapstick into an art form. They also poked at more than just eyes in their time. Some of the earlier plots satirized and poked fun of greed and high society, health care, economic depression and even Adolph Hitler and the Nazi Party, long before America would join the Allies to fight the Axis powers in WWII. So whether or not the Farrelly Brothers' big-screen tribute to the kings of slapstick can live up to their legacy and help a whole new generation find the funny in films the rest of us spent so much time laughing at on Saturday afternoons and Sunday mornings, we fondly look back at some of the more interesting aspects of this amalgamated association of morons (Local 6 7/8ths).
1. Moe got his haircut because his mother wanted a girl
The boys' notoriously bad haircuts have become as important a part of their legacy as their moves and movies. Moe, aka Moses Horwitz, and his brothers, Curly (Jerome), Shemp (Samuel), Jack and Irving, were raised in a small Jewish community in Bensonhurst, New York to Solomon and Jennie Horwitz. Moe was always seen with his signature bowl cut hairstyle even in his old age, but he had a much different hair style as a young boy.
According to 'The Three Stooges Scrapbook,' Moe actually had long curly hair in his younger days because his mother loved the look since she always wanted to raise a girl. His hair attracted teasing in grammar school and one day, he got fed up and cut off his curly locks himself with a pair of scissors resulting in the spittoon look that made him famous.
2. Curly got his signature walk after accidentally shooting himself in the foot
None of the Stooges have more distinct features and mannerisms than the undisputed king of dumb comedy, Curly. His paunch frame and shaved head had just as much to do with the development of his character and comedy as the physical comedy that made him famous, all of which he developed on the stage and as he made his way into the group. His famous shuffled walk, however, started long before he longed to perform on a stage.
Moe's only daughter, Joan Maurer, said in the Larry Fine biography 'One Fine Stooge,' his Uncle "Babe" accidentally shot himself in the foot at a young age and refused to get surgery because the procedure scared him. He ended up walking with a limp, but he masked it in his films by exaggerating his walk in the recognizable gait we've seen in his films.
3. Larry Fine started playing the violin because of a bad accident that almost cost him his left arm
Larry, aka Louis Feinberg, grew up in South Philadelphia to Joseph and Fannie Feinberg and took up his trademark violin at a very young age. However, it wasn't just a way to learn music. It was the result of a very serious accident that severely burned his left arm.
Larry's father worked as a jeweler and had some very corrosive chemicals in his store. At the age of four, Larry accidentally grabbed a bottle of oxalic acid, a substance used to test the quality of gold, and spilled some of it on his left arm. The acid burned it from the skin to the muscles. He was able to get a skin graft but the muscles were still weak and the doctor recommend Larry take up boxing to regain control of it. His father didn't approve, even though he won his first professional fight, and his mother suggested he take up the violin to strengthen his left arm. He turned out to be a gifted musician who would go on to play with the Philadelphia Orchestra at age 9 and took his famous fiddle with him into his show business career.
4. There were way more than just three Stooges
The first group, Shemp, Larry and Moe, got their start in film thanks in part to fellow vaudeville star Ted Healy who called the act his "Stooges." A talent scout for Fox Studios discovered Healy and his Stooges on stage and offered them their first movie 'Soup to Nuts,' written by famed comic artist Rube Goldberg. Fine and the Howard boys later teamed up with Healy again for two more films, but Shemp grew tired of being slapped around by Healy and left the act. Moe brought Curly into the act but tensions rose between Moe and Healy and Moe decided to go in films along with his brother Babe and Larry. Healy wouldn't let them go without a fight. He wouldn't give him the name "Stooges" and Moe had to sue him in court for the rights to the name.
Healy moved on as well and recast his Stooges with comedians Paul "Mousie" Garner, Dick Hakins and Jack Wolf, and once more a few years later with comedians Jimmy Brewster, Sammy Wolfe and Rhett Person. Neither group lasted very long. Shemp, who was already finding plenty of work in Hollywood as a prolific character actor, even created his own group with four other actors for the 1934 RKO comedy 'The Knife of the Party,' billed as Shemp Howard and His Stooges. Universal also created their own group for the 1934 film 'Gift of Gab' after trying to secure the original group after negotiations failed and they cast news actors Sid Walker, Skins Miller and Jack Harling and billed them as "The Three Stooges." So if you add up all of these previous Stooges as well as future replacements Joe Besser and Curly Joe DeRita (assuming you don't have a terrific headache by now), that makes a total of 20 Stooges.
5. Curly actually had a very nice head of hair
In the midst of all this switching and recasting and asking the real Stooges to please stand up, none stood out more than the original chowderhead Curly. Moe's kid brother, nicknamed "Babe," was starting to take an interest in show business before Shemp's exit, most notably by playing a madcap musical conductor for a New York theater orchestra whose tuxedo would break away throughout the song. Healy agreed to take the young comedian into the group under one condition.
Curly said in an interview that he actually had "beautiful wax hair and a waxed moustache" and when he asked Healy what he could do to join the Stooges, he said  Healy told him, "You can shave off your hair to start with." The new look stuck with him through the rest of his career.
6. No one quite knows exactly how Ted Healy 𝕕𝕚𝕖𝕕
Another big reason for the Stooges' split from Healy was his abusive nature, violent alcoholism and refusal to give a fair share of his movies' earnings with the boys. He was still in high demand for films and a respectable star, despite his off-screen behavior and inability to manage his finances. Then in 1937, Healy had gone out for a drink to celebrate the birth of his son, John Jacob Nash. He reportedly stumbled from bar to bar before ending up at the Trocadero on Sunset Boulevard where he got into a fistfight with 29-year-old Albert Broccoli who would go on to produce the James Bond films. Eventually the two made up, but another eyewitness in the bar said they saw Healy become belligerent with two other men in the bar who were on dates that night. Two of the bar's attendants carried him out and took turns beating him in the head and stomach before a cab whisked him away from the scene. A friend found him in front of the Hollywood Plaza Hotel and took him to a doctor who bandaged Healy up and sent him home. His condition only got worse. He eventually suffered a massive heart attack that put him into a coma from which he never recovered, just two days after becoming a father.
A hasty autopsy by the Los Angeles coroner ruled Healy's death was not caused by any skull fractures or brain injuries and found no blood clots or cerebral hemorrhages, but his body was embalmed at a mortuary before the autopsy. Instead, the coroner ruled that acute and chronic alcoholism caused his death. Another report suggested he 𝕕𝕚𝕖𝕕 of the heart attack but the attending physician, the same who had just brought his son into the world two days earlier, refused to sign the death certificate. His widow Betty and sister Marcia insisted Healy had been sober for eight months prior and only had a few drinks to celebrate his new son. The conflicting reports only fueled more wild gossip and speculation about Health's untimely passing.
7. Shemp invented the eye poke
Devastated by Healy's death, the boys pressed on with the act. They signed an exclusive contract with Columba Pictures to shoot shorts from the mid 1930s to the early 1940s that were a very popular way to bring audiences to the theaters for the studio's big budget features and would eventually make Curly, Larry and Moe immortal comedy icons. One of their signature gags, however, was actually invented during this formative time by Shemp who worked in films with Abbott and Costello and W.C. Fields before rejoining the Stooges after Curly suffered a debilitating stroke in 1947 during the filming of 'Half Wits Holiday.'
Moe recalled in a radio interview that he, Shemp and Larry were playing bridge and Shemp accused Larry of cheating. The argument became so heated that Shemp reared back with two fingers and poked Larry hard in both eyes. Moe recalled, "Larry had tears coming from his eyes for a week. It struck me so funny I leaned backward in a chair and went right through a glass door." The move became a staple of the boys' arsenal.
8. The cast got hurt on the set more than you think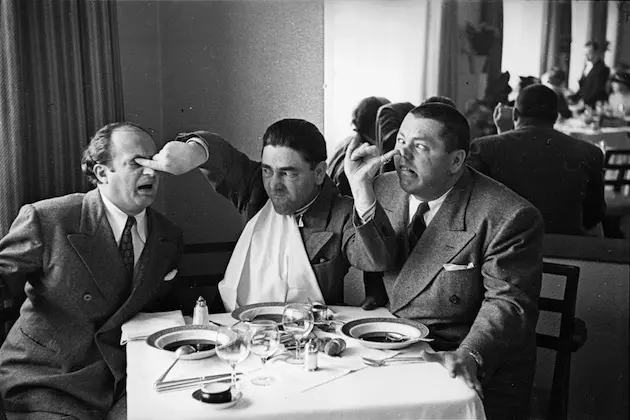 The pokes, punches and slaps may have been well choreographed from their years of work in clubs and enhanced with wacky Foley sound effects, but there were still many dangers to be had during filming. The Stooges didn't start using a Foley machine to enhance their physical gags until they started working with director Jules White at Columbia and Healy usually held nothing back while slapping and punching his Stooges.
Larry remembered for his biography that during the filming of 'Three Little Pigskins,' the script called for all three of the boys to get tackled by a group of pro-football players. The Stooges may have done their own stunts in slap fights but they were hardly stuntmen and insisted they have three professionals stand in for them. The director eventually relented and hired some doubles to stand in for them. The doubles suffered several broken ribs and limbs from the hard tackle and the studio hired doubles ever since to handle the bigger stunts.
Even the infamous pie fights, most of which were thrown by Moe who developed a science for flinging pies, were serious hazards on the set. Since filming required multiple takes and the shorts department had smaller budgets, they had to reuse the thrown pies for retakes. The crew simply swept up the gooey mixtures off the hardwood floor and slapped them back in the pans. Sometimes, one of the recycled pies would have an occasional nail or wood shard from the dirty studio floor mixed in with them.
9. One of Curly's possible replacements was comedian Buddy Hackett
Curly's debilitating stroke was a major setback not just to the act, but also to Moe who had always tried to help his little brother settle down and leave his raucous party days and heavy drinking behind him.
When it became clear that Curly wasn't well enough to return to work, Moe, White and the producers began searching for a replacement. Comedian Jeffrey Ross wrote in his book 'I Only Roast the Ones I Love' that White called Buddy Hackett to ask him to move to Hollywood so he could stand in for the ailing Curly. Hackett, a seasoned Catskills stand-up comedian, had a wife and child to support and a second one on the way. He didn't see the sense in relocating the whole family and didn't think his new gig would be very conducive to making great comedy. "I just didn't want to wake up every morning and wonder how the other two guys were feeling," Hackett told Ross.
10. One of their most famous films was nominated for an Oscar
The Stooges would go on to have a career with amazing longevity and rabid popularity for a slapstick vaudeville act that critics thought wouldn't last well beyond the life of the men on the screen. And as if this wasn't enough of an honor, one of their most memorable films earned a surprising honor of its own.
Their third Columbia short 'Men in Black,' a parody of the Clark Gable medical drama 'Men in White' that had the boys playing well-meaning doctors who do more harm than good, earned an Academy Award nomination in 1934 for Best Short Subject-Comedy. Fortunately for the Stooges, the film's critical and financial success got them a higher weekly salary and a better contract. Unfortunately, it lost to an RKO musical short called 'La Cucharacha' and became the only film in their extensive library to earn them an Oscar nomination.
Then again, there is always hope for the Farrelly Brothers' latest entry. Hey, if 'Norbit' can earn one, anything's possible.